E-sports growing in popularity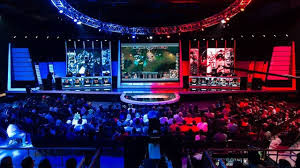 Garrett Morrison, Reporter
May 3, 2017
Hang on for a minute...we're trying to find some more stories you might like.
Esports are a growing form of media that is gaining popul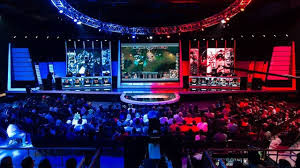 arity around the world. Some of the most popular E-sports are: Overwatch, League of Legends, Rocket League, Dota 2, and Cs:GO.
1.  Overwatch: Overwatch came out on May 24 2016 and has gained one of the biggest fanbases in video game history. The games premise is that all around the world there are agents that fight each other around the world,getting things to different objectives. There are currently 24 different heroes ranging from a Brazilian DJ, a cowboy, a mech driving pro gamer, a Swedish engineer, and many more. It has over 25 million players worldwide.
2. League of Legends: League of Legends was released on October 27,2009 and has amassed an estimated 100 million active players each month. The 2016 World Championship had 43 million viewers and the total prize pool was 6 million US Dollars.The total prize pool for all LOL tournaments is $29,203,916. There are 134 playable "Champions" as of today with more likely to come.
3.Rocket League: Rocket  League came out on July 7, 2015 and gained massive popularity due to it being one of Playstation's free games of the month. The premise of the game is this: Rocket powered cars playing soccer, simple enough. The total prize money from it is $530,962.95 from 129 tournaments. It has over 20 million players with over $110 million in sales. There are customization options for cars such as flames on the sides, different hats, and plenty of wheels.
4. Dota 2: Dota 2 came out on July 9, 2013 and has over 13 million active players. The total prize money from 715 tournaments is a huge $99,156,318, which is insane for a video game. It is an online battle arena game that has 112 playable characters that each have a loving fanbase. Dota 2 fans are some of the most passionate video game fans ever, due to the massive amount of them.
5. Cs:GO: Cs:Go is a first person shooter that released on August 21, 2012. The goal of the game is to either plant the bomb, or keep the other team from planting it. It has had around 850,000 total players with many of them being streamers and internet personalities. It had a bit of controversy around it a few years ago, when a website was launched that you could bid on things in the game, but it all ended up being a scam by two huge Youtubers, it has since been fixed.
E-sports are entertaining because these people are so good at the games that lots of people wish they could do. The industry is growing, and it's time for people to realize that video games are not just a waste of time, but a form of entertainment, and even a form of art.