The Person They Called Brother
Students, staff remember Jeremy Reed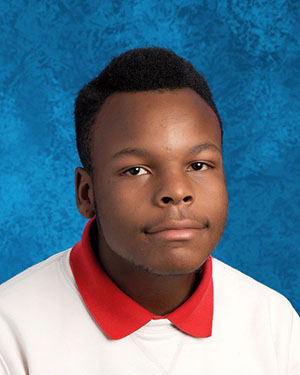 Hang on for a minute...we're trying to find some more stories you might like.
 "If it ain't Jones, it ain't sweet."
This was Jeremy Reed's mantra – a way of reminding everyone that no one was as real as he was.
And there was no one quite like Jeremy Reed.
On Saturday, Feb. 4, junior Jeremy Reed died unexpectedly. His loved ones, friends and local community mourn the loss of someone who played an important role in the lives of those around him.
Jeremy's cousin, senior Marissa Diaz, remembers him as family-oriented.
"Out of all my cousins, he was one of the ones that was always there," Marissa said. "He always had a smile that would make everybody else smile. He was just goofy." 
Making time for his loved ones was a priority for Jeremy.
"Always in the hallways he'd come and hug me, on a daily-basis," Marissa said. "And now that he's not here anymore I won't be able to see him."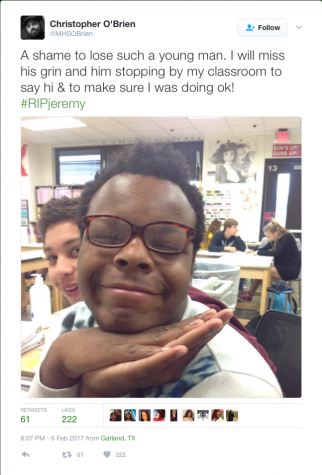 At school, Jeremy was memorable to the staff, especially to Mr. Christopher O'Brien, his IPC teacher.
"He was kind of a challenging student," Mr. O'Brien said. "We ended up forming a good relationship in that time."
Jeremy continued to check-in with Mr. O'Brien sporadically.
"He would stop by my classroom randomly," Mr. O'Brien said. "He'd come say 'hi' and smile and ask how I was doing."
The kind of warmth Jeremy always had made those who knew him feel special.
"I think people will remember that he always made them feel welcome," Mr. O'Brien said. "He always made them feel like someone was interested just because he'd always greet someone with a smile and ask them how they were doing."
His friendliness and relentless optimism are what made him so unique to Mr. O'Brien.
"Even on the bad days he seemed to appear and greet me and be smiling about something," Mr. O'Brien said. "It made me feel better and realize that maybe problems aren't so big after all."
Junior Jeremy Rios was best friends with Jeremy Reed and considered him family.
"He was like a big brother," Jeremy Rios said. "He made sure I ate. We did everything together."
The two met in sixth grade and have been close ever since.
"We'd walk for hours," Jeremy Rios said. "If we didn't have a ride we'd just walk, so we walked all the way from the east side of McKinney to the west side."
There was a strong sense of loyalty between them.
"I knew he had my back," Jeremy Rios said. "When we were younger, I got into it with some dude in the neighborhood and he tried to get his big brother on me. Then Jeremy came out of nowhere and said 'No, bro. I got you.'"
Jeremy pushed people to be the best version of themselves.
"He just motivated a lot of people," Jeremy Rios said. "He told somebody they could do something, that's why they liked him. It's that one person that means a lot to you."
Community-in-Schools coordinator Ms. Natasha Hayden knows first-hand that Jeremy was "that one person" for a lot of people.
"From interacting with his friends and talking with them, I could tell he would always be the life of the party," Ms. Hayden said. "I think above anything that's what's gonna be missed the most."
Ms. Hayden serves as a mentor and guide for students at the school.
"I wanted to get him some resources, just like I do for all the students," Ms. Hayden said. "So he would be able to get himself back on track."
The friendly spirit Jeremy brought to school and the community impacted kids and adults alike and is what will be so greatly missed.
"That person that they called brother," Ms. Hayden said. "That person that they called cousin. The individual that made them just wanna come to school to see him, period. A lot of kids will miss that, and above anything, so will a lot of adults."
Between starting GoFundMe pages and making charity shirts, students have had an enormous reaction to Jeremy's death.
"That means that his legacy meant something to a lot of students," Ms. Hayden said. "It touched them ways that teachers and adults have never been able to do."
Jeremy was one of those individuals who brought positivity to the lives of people he met.
"You never know how many lives you touch until you're gone," Ms. Hayden said. "I don't think Jeremy realized how many people he impacted, but I think he does now."
The determination that Jeremy had inspired those around him.
"When he put his mind to something, he wanted people to know that he was gonna do it," Ms. Hayden said. "I could tell he was determined to get where he needed to be, regardless of how it was gonna happen, he just knew he wanted to do something."
And as his best friend Jeremy Rios said, Jeremy would motivate himself and others by saying "Just keep going. Don't quit."
And that's what he would want everyone to do now more than ever.
"His legacy is just to keep going," Ms. Hayden said. "A lot of students don't realize, but you have to live. You have to live. And I think, above anybody, Jeremy knew that."
There will be a visitation for Jeremy Sunday from 6 to 8 p.m. and a funeral service Monday at 4:30 p.m. at Shiloh Baptist Church in Plano.