English teacher joins national march at Texas capitol
She remembers hearing bongos and munching on Girl Scout Cookies as she marched down Congress Ave. Parading down the street in a baby blue "Hamilton" t-shirt, holding a "Rise Up" sign with her daughter by her side, English teacher Mrs. Amy Smith felt like she had to be there.
Mrs. Smith attended the Women's March in Austin on Jan. 21 with her daughter and her daughter's husband and friends. She felt that the march was the ideal way for her to express herself politically following Trump's inauguration.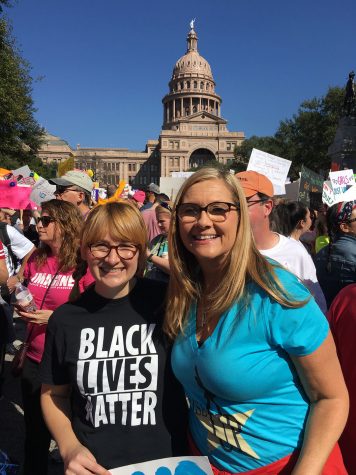 "I wanted to be a part of something bigger than myself," Mrs. Smith said. "There's a lot of things happening in our country right now that need justice. Groups of people may be more marginalized than ever."
She drove to Austin on Friday and spent Saturday morning preparing for the march with her daughter.
"That morning Emily had a sign-making party at her house," Mrs. Smith said. "We made all these signs and there was a big group in her tiny little house."
The group squeezed into a pickup truck and headed for the Capitol.
"We got there and we started walking down Congress toward the Capitol, as far as you could go," Mrs. Smith said. "There was just this massive sea of people."
There were more than 50,000 people at the march — 30,000 more than had been expected.
"You could barely move by the time we got down there," Mrs. Smith said. "Everyone was holding up signs and they were excited."
Mrs. Smith said that sort of excitement was in the air when she attended the 2009 inauguration.
"I went 8 years ago to Obama's inauguration," she said. "It was so much fun to be around people who were so hopeful. I can remember getting off the subway there and chanting 'Yes we can! Yes we can!'"
Despite prior political activism, Mrs. Smith had never done anything like the march.
"I've worked on campaigns before, I worked on the first Obama campaign quite a bit," Mrs. Smith said. "I've never done something after a campaign."
She felt that she had a responsibility to attend the march.
"I felt like I needed to be out there marching because that's me talking about the people that need a voice," Mrs. Smith said. "I feel like I'm letting down my students and myself and I'm not being who I am if I don't do everything I can."
Mrs. Smith felt that critics of the march, especially those claiming it excluded men, missed the entire point.
"It was pro-men too," she said. "Strong women make stronger men, we're all stronger together. It didn't feel like a women's thing, it felt like a people thing."
She is frustrated by women who feel the current political scene doesn't impact them.
"I get really weary of women my age who sit in their nice houses in suburbia and think it's not their fight," Mrs. Smith said. "'I don't have to be a feminist.' Well, glad someone else did it for you."
Continuing the work of her female predecessors is important to her.
"My responsibility is to pay it forward for other people so that they have rights," Mrs. Smith said. "Somebody a long time ago fought so that I could vote. Somebody a long time ago fought so I could work."
The heterogeneity of the marchers was refreshing and empowering to the message of the event.
"It was such a mix of people," she said. "I'm here in McKinney in my little bubble and I know we have diversity, but to a certain extent. It was nice to be out with a more diverse group and for us all to have this one thing bringing us together: we want change."
Mrs. Smith feels that it is vital for more privileged people to fight for those who have fewer rights.
"I'm not fighting for myself," she said. "I may not even be fighting for my children or my children's children. We're just a bunch of upper-middle class, Anglo-Saxon Protestants: How could you be born into anything easier?"
The march was an outlet for people who wanted to speak out against injustice.
"For me it just meant standing up and saying no to what I felt was a lot of hate out there, what was a lot of 'us against them,'" Mrs. Smith said. "I feel like in some instances we've replaced being proud of our country with more of a cruel, hardened heart, and I just felt like we needed to march against that idea and for all people."
While some say that protesters and marchers should just accept the results of the election, Mrs. Smith feels that protest and outspokenness are integral parts of the government system.
"The results are the results," she said. "But in a democracy, if people don't speak up when they see something that's wrong, it's not a democracy."