Cottam's Corner: Boys basketball team takes trip to Houston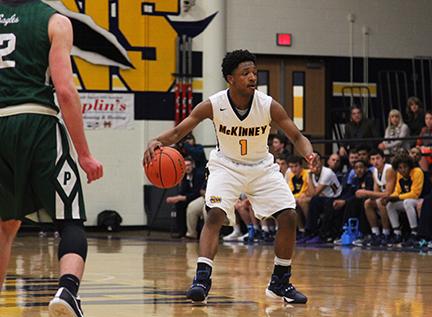 Two weeks ago, the Lions boys basketball team took a trip down to Houston to partake in a tournament with teams from across the state. The team finished 3-2 in the tournament.
All of the games took place in neutral sites, except for one game against Dobie. The Lions started off the weekend with a 75-85 loss to Dobie High, led by senior EJ Clark's 28 points. The next game, the Lions took a win from Crosby High with a score of 72-42, highlighted by 36 points from EJ Clark. On the next morning, MHS then lost in a close game to La Porte by three points. The team then finished off the day with a 66-62 dub over Barbers Hill High, with another impressive 35 points from EJ Clark. To finish out the weekend and the tourney, McKinney High won against Angleton High 72-54. and finished the weekend at 3-2.
When asked how the chemistry on the team is different this year compared to last year, senior Camryn Givens said that "it's a lot different having a younger team. Last year, the varsity team had 9 seniors, so the team was almost completely about the seniors. This year, none of the juniors have any prior varsity experience, so it falls on the seniors on the team to step up, serve as leaders, and help develop the juniors to lead the team next year." Basketball follows the same district as football, and are currently in District 6-6A with Denton Guyer, Allen, Wylie, Boyd, and all three Plano schools. "There's a lot more pressure playing in 6A. With the competition we're up against, it challenges the team a lot more to step up if we want to win this year."
That following Tuesday, the Lions travelled out to Lake Highlands to take on the Wildcats in a pre-district game. The Lions lost 72-80, with impressive scoring from EJ Clark with 33 points, and a 10 rebound game from senior Antonio Lyons. The team plays Highland Park at home tonight at 7:30 in the Lions Den!