Team unity leads swimmers to win against Lovejoy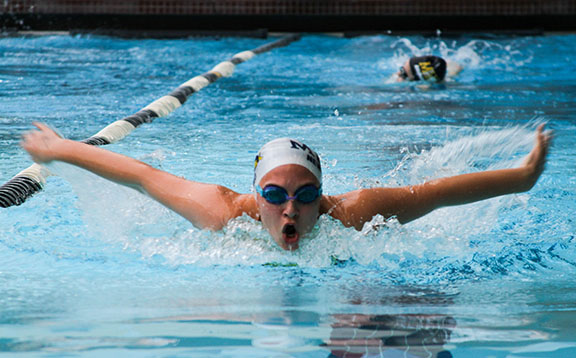 Ellisha Stokes, Sports Editor
November 28, 2016
Hang on for a minute...we're trying to find some more stories you might like.
The air inside the shadowed natatorium is overflowing with the sensation of chlorine filling your nose. Splashing challenges the sounds of the pools heater, but that's where they want to be. All the late night practices and bruises had paid off. They had won against Lovejoy.
The swim team will race against all Mesquite schools Nov. 29 at 5 p.m. in the McKinney Natatorium
"When you touch the wall and finish the race," junior Nick Chan said, "you get out of the water and hear everyone cheering for you and it just makes you feel so much better in."
The swimmers have worked hard this season to win against some challenging opponents.
"At meets you get up there and feel really nervous," Chan said, "especially since it's my first year swimming. I get on the block, dive in and like as I go in, you feel like you glide through the water. The adrenaline is rushing so much that you can't even think."
Senior Shandon Bringhurst feels like the team has become more like a family.
"The swim team  is very family oriented." Bringhurst said. "I feel like we are much closer as a team then I ever have been."
Sophomore Callie Norris says after awhile she gets into a rhythm.
"And your relaxed even though you're really tired." Norris said. "And your relaxed even though you're really tired-it's a weird feeling- and then afterwards you just feel refreshed and powerful. You just feel like you're going to conquer the world."
Before the meets the team gets together and has pep talks with their new coach.
"We do a lot of motivating pep talks," freshmen Anika Newland said. "During meets and practice. Our coach does a good job of hyping us up, getting us ready to go, and the team also cheers a lot before the race. Overall it's just a positive attitude."
The swimmers new coach has gotten to know everyone on a personal level.
"The coach knows everyone by name," Chan said. "If you want to stay after and work on technique with him, he'll stay. He gets on a personal level with the whole team."
The boys swimming team has had a rough start, but they have pushed through and have made it a good season.
"I feel like this year," senior Shandon Bringhurst said, "Is probably the best year we've had since I've been on the team. We are doing really good this year."
The team has come together over this season into a family like environment.
"We all help push each other," freshmen Jacob Shackleton said. "And that helps us get better and bring us closer like a family."
The swimmers have been working together to support many wins as a team.
"Swim is often seen as an individual sport where you just got to go out there and do your best and that is a part of it," Norris said, "But when it comes down to it everyone just has to come together because if we want to win a meet everyone has do their part. Everyone works really hard for the team."