Cottam's Corner: Lions to finish season with Friday's Crosstown Showdown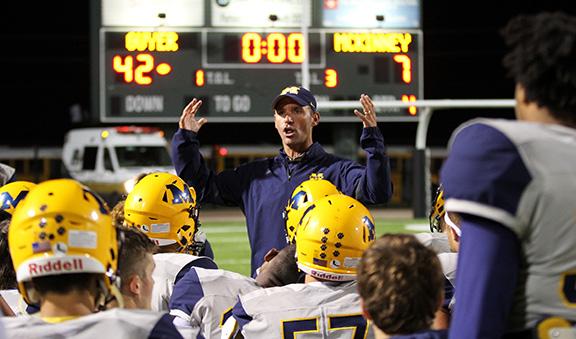 After nine games this season, the football team is sitting at 4-5, 5th place in District 6-6A. The Lions were predicted to go 0-10 and finish in dead last in the district by most high school football analysts. The team managed to prove them wrong and start the season at 4-1, before losing 4 straight to Denton Guyer, Plano East, Allen, and Wylie.
Through 9 games, the McKinney Boyd football team is 1-8, sitting in a comfortable last place in District 6-6A. The Broncos were predicted to finish 5th in the district, yet have underplayed this season and have only collected one win all season against Plano West.
Since Boyd was opened in August of 2006, the two high schools have played each other a total of six times, this year being the 7th. The Lions have faired to a 1-5 season, not winning since the first season Boyd had a football team in 2008.
This season, the Lions leading receiver has been Quinton Quirrenbach with 41 receptions, 801 yards and 11 touchdowns. The Lions leading rusher has been Matthew Gadek, with 178 carries for 1338 rushing yards and 11 touchdowns. With the recent return of starting quarterback Damon Witmer, who boasts a QBR of 123.9 this season, the Lions offense looks to be firing on all cylinders come this Friday. After fracturing a bone in his wrist, QB John Marrs returns to full health, watch him to see a lot of playing time. On Boyd's defense, the leading tackler is linebacker Blake Burton with 55 combined tackles. Their sack leader is linebacker Brent Matiscik with two sacks. Lastly, the player for Boyd with the most interceptions defensive back Jesse Poole with one. It will be an interesting matchup to watch these two teams face off.
So far, the Broncos leading receiver has been Julian Coaxum with 23 catches for 326 yards and one touchdown. Their leading rusher has been Kaeden Markham, who currently has 179 carries, 819 rushing yards, and 7 touchdowns. These two will be lining up against a Lions defense that has switched from their 4-3 scheme last year to a 3-4 scheme to protect the air raid they anticipated from 6A. Safety Johnny Hobart has racked up the most tackles on the defense this year, with 98 total tackles. As far as sacks go, linebacker Nick Simpson leads the pack. Tyson Wilson leads the team in interceptions this season, boasting 5. And watch out for rising star defensive end Cole Teichelman, who has 2 QB hurries on the year.
The Lions look to finish their season on a high note after missing out on playoffs by losing to Wylie last week with a big win against McKinney Boyd.