Cottam's Corner: Why Tony Romo should absolutely start over Dak Prescott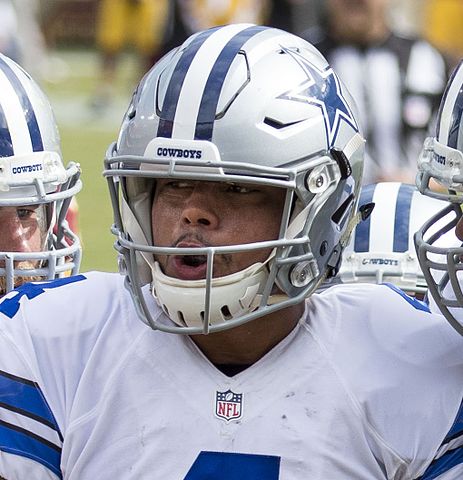 Hang on for a minute...we're trying to find some more stories you might like.
So far, the Dallas Cowboys are 4-1 in the 2016 NFL Football season. Part of this could be credited to two of the Cowboys' new rookies: Ezekiel Elliott and Dak Prescott. With Prescott at quarterback, the Cowboys have been able to put together a string of victories no one could have predicted at the beginning of the season when veteran quarterback Tony Romo went down with a fractured vertebrae in his back.
However, there is some concern across mainstream media about who will start once Tony Romo returns to the practice field. With positive results from recent MRI's, it looks like Jerry Jones and Jason Garrett will have to cross that bridge sooner, rather than later. Without a doubt, Tony Romo has earned that starting position, and there are a few reasons why the Dak hype needs to cool down with Tony returning soon.
It is impossible to deny the fact that Tony Romo has been hurt a lot during his professional career. In 2008, Romo sprained a finger in his throwing hand and missed two games. In 2010, Romo sprained his shoulder and missed 10 games to finish the season. In 2013, Romo was hit in the back and herniated a disk while escaping the pocket. He then continued to finish the game and get surgery during the off-season, an injury which lingered into the 2014 season. In 2014, Romo fractured the transverse process in his back in 2 places, missed 1 game, then came back and finished the season, as well as playing in two playoff games (should've been 3 or 4 if the NFL knew what a catch was). With high hopes leading into 2015, Romo fractured his left collarbone and was essentially out the entire season after re-injuring it in Week 11. And of course, Romo fractured a vertebrae in a pre-season game this year.
Obviously, the man has a hard time staying healthy, but he cannot be blamed for that. When healthy, Romo has been a top-5 quarterback in the NFL. Sounds crazy, right? Not really when you consider he currently holds the second highest QBR in NFL History, with only Aaron Rodgers in front of him. Tony Romo also leads the Cowboys franchise in Passing Yards (34,154 yards) and passing touchdowns (247 TDs, 82 more than Troy Aikman).
"But he's not clutch." Yes of course, that's why he leads the NFL in most 4th quarter comebacks since 2006 with 25, and the most game winning drives since 2006 with 30. But yeah, he throws a pick here and there and all of a sudden he's a bad quarterback.
"He never wins regular season or postseason games." Wins are a team stat, not a QB stat.
Consider the talent he had around him. It takes a legend to pull all of those teams from 0-16 to 8-8. When Tony Romo plays 10 or more games, the Cowboys have statistically never been eliminated until the final whistle of the fourth quarter of Week 17. But yeah, Tony isn't clutch.
It's hard to deny the success that Rookie QB Dak Prescott has been having so far this season. Leading a Romo-less team to 4-1 hasn't been done since Troy Aikman. But he cannot take all of the glory for this. In 2014, DeMarco Murray rushed for just over 1,800 yards. Assuming Week 1 was a glitch, Ezekiel Elliott is on pace for about 2,000 yards. It must be nice for a rookie to have a beast at running back to get rid of some of the stress. That is how the Cowboys won 12 games in 2014, right? Also, the Cowboys have the best offensive line in the NFL, even when they lost two starters to injury. They took on a Bengals defensive line that is one of the best in the league, and made them look like peewee players. That has to have something to do with it. And don't forget how much better the Cowboys defense is doing this year. Through 5 games, the 2015 Cowboys defense gave up 131 points. Through 5 games, the 2016 Cowboys defense has given up only 91 points. That's an average of 8 less points per game. That takes a lot of stress off Dak, knowing he can score less points and have a high chance of winning.
Dak is off to a great start for a rookie quarterback. But when an elite quarterback such as Tony Romo comes back, the rookie sits. I grew up watching and loving Tony Romo and seeing this hatred flowing towards him from "Cowboys fans" is terrible. The man has broken his body to lead the Cowboys to decent years, some better than most. If Tony Romo can survive dating Jessica Simpson, he can survive a little competition from a rookie. Dak Prescott is no Tom Brady, and Tony Romo is no Drew Bledsoe.