OPINION: Women of color have few options on Disney vs. Pixar Day
I planned to go all out this homecoming week, after all, it is my senior year. I committed to squeezing into my old lacrosse uniform for Athletes vs. Mathletes, and decked out in a colorful 80's outfit for Timehop vs. Tacky Tourist. But when it was time to plan for Disney vs. Pixar day, I was stumped.
"
My own options consisted of That's so Raven, Penny Proud, and of course Princess Tiana."
Despite the obvious lack of representation to me, some of my fellow classmates had a hard time grasping why it was such a troublesome task finding a costume. When my friend Therese tweeted about her own challenges finding someone to dress up as, she was assured that she did have options, but he could only name three: Mulan, Jasmine, and Pocahontas, only one of which is actually Asian. My own options consisted of That's so Raven, Penny Proud, and of course Princess Tiana. Frozone from the Incredibles and Cobra Bubbles from Lilo and Stitch for guys.

The process of picking a character for my Caucasian friends seemed to come with ease. Seven out of the eleven Disney Franchise princesses are white, a majority of other major and supporting characters in Pixar and Disney movies are as well. Their options were endless. If I were to think of the number of characters of a minority ethnicity in general, they'd probably total up to my ten fingers, going beyond that would be a struggle.
Personally, I've always been aware of the racial bias present in media and just business in general. When I would roam the aisles of Target, gawking at all of the pretty dolls, there was never one of color that caught my eye. Among the shelves of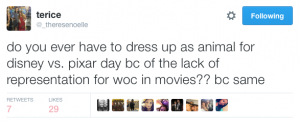 Barbies, I was lucky if I found one that had any tiny resemblance to me. Growing up, I didn't allow this to sway me, I saw I wasn't represented, but I was never bothered.
This whole debacle seems to parallel with the Oscars controversy earlier this year. Seeing that no actors of color in general were up for nominations, and scrolling through the hashtag #OscarsSoWhite, really put into perspective that I wasn't the only one noticing there was a lack of color in industries, and not just for African Americans either, but Latinas, Asians, and Indians. It all stroke me as unfair, but besides Chris Rock's humorous attempts to bring light to the situation, no obvious actions have been set forth to ensure people of color are casted equal roles and are acknowledged for their performance.
Despite my own difficulties, I'm not completely hopeless. Things have come a long way, and I feel if a similar theme were to come about in the years to come, the next generation will have a bigger array of characters to choose from: the emergence of Doc McStuffins, Moana, Queen of Katwe, and maybe even another Disney princess, make the future of diversity in Disney promising. In the meantime, I'm stuck with Tiana.