Boundaries broken with homecoming queen
Hang on for a minute...we're trying to find some more stories you might like.
When people think of the stereotypical homecoming queen, she isn't wearing a black and purple tuxedo.
April Swartz-Larson is the first openly gay homecoming queen at McKinney High. The winner was announced during halftime at the football game vs. Denison.
Her best friend Emilee Swim encouraged others to nominate her.
"At first it was as a joke. But then, I was like wow that would actually be super cool if a lesbian won homecoming queen," Swim said. "She deserves it and she's an awesome human being. She wants to win really bad."
Emilee got the word out to vote for April via Twitter.
"I tweeted that everyone should nominate April as homecoming queen and it got a lot of retweets and favorites," Swim said. "The next day I showed up and Alexa Gronfein had made flyers."
April never expected everyone to react in such a positive way.
"I knew I had friends like Emilee and Alexa that were into it," April said. "But that was really surprising how everyone got into it."
It wasn't a surprise to principal Dr. Logan Faris when he found out that April was nominated.
"I think that our student body is very respectful and welcoming," Dr. Faris said. "The students that are on the court meet every criteria that we have laid out for them."
At the end of the day, it's just a popularity vote.
"The fact that a person has a certain belief set or anything of that fashion shouldn't impact the student's vote," Dr. Faris said. "They don't run for these offices, it's not something that you have a platform like, 'I believe this and this is why you should vote for me', it's all friendships."
There was controversy about a gay pride banner for the Pride Club, which isn't an official club, being torn down but April doesn't take it personally.
"That wasn't directed at me at all," April said. "It was for the Pride Club, which I didn't even know we had, but there's been no negative reaction about me running."
Her family and friends have been supportive of her.
"My parents have never been more proud of me my entire life," April said. "Especially my dad."
She hopes that one day it won't be abnormal for someone who is gay to win homecoming king or queen.
"It's a big deal on the outside," April said. "But I think a lot of people who voted for me didn't even think about it as me being gay."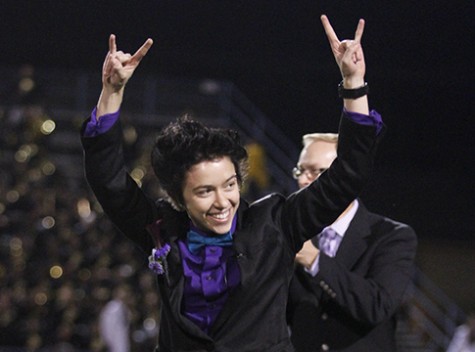 Colin Mitchell