Hockey team hopes for playoffs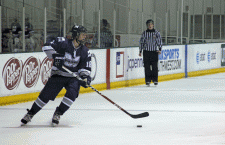 The Hockey season began 5 to 1, until their losses began to outweigh their wins.
"I feel we have what it takes to get us to playoffs," senior Ty Holt said. "The team is now at a 9 to 7 for the season."
With the season ending Feb. 28, they must improve their technique to have a competitive edge against the other teams in the rink.
"As a team we work a lot on the offensive zone, but I personally like to work on my shooting." Kevin said.
Hoping to make it to playoffs, the team practices every Tuesday from 7:15 to 9:30 p.m. at Craig Ranch Rink to strengthen and improve their game.
"I hope that we can improve all around as a team and be able to finish strong." Junior Kevin Hobbs said.
Written by Maya Ermeus
Photo by Gehrig Johnson