Mader rocks out
Hang on for a minute...we're trying to find some more stories you might like.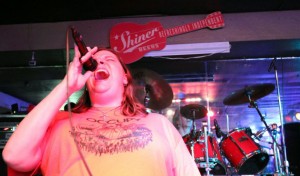 After she teaches communications and debate all day, Kelly Mader rehearses with her hard rock cover band, Tacet, as the lead singer of the one-year old band.
"Tacet is actually a name in music that means 'no music,'" Mader said.
Ms. Mader put out an ad on Craig's List that said she was interested in starting a new band, and four people with a passion for rock music responded to her request. Tacet practices once every week and strives for perfection in every note they play.
"We do everything from Avenged Sevenfold type style of music to rage type music to Pearl Jam and the early '90s stuff," Mader said.
Along with playing music in their spare time, the members of Tacet; Julie, J, Rudy, and Cindy, have other jobs.
"It's interesting because the bassist is a band director, one of the guitarists is a bio genetic engineer, the drummer is the district attorney, and the other guitarist is in charge of a construction company," Mader said.
Tacet performs at several locations in the Dallas Metroplex.
"We like to play in Deep Ellum in Downtown Dallas," Mader said. "It's more our scene."
Although the band has only been together for a year, Ms. Mader is familiar with the music industry. Before Tacet, Mader was in a band called Three Fifths for eight and a half years. The band eventually broke up, however, because of various medical issues.
"It's really unfortunate because the drummer ended up having thyroid cancer, the bassist's hand was bit by a dog and had to have reconstructive surgery, and I was in a car accident that ruptured a disc and tore my rotator cuff," Mader said.
Despite these injuries, the members of Three Fifths still keep in touch and remain close friends.
"The funny thing is that we just got together last weekend and played around and stuff," Mader said.
Whether it's Tacet or Three Fifths, Kelly Mader is always involved in music.
"I cannot stand to be away from music," Mader said.
For more information about Tacet, visit www.tacettexas.com.
Written by Lauren Anderson