Responses to lip dub positive
Hang on for a minute...we're trying to find some more stories you might like.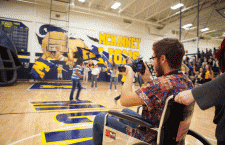 One week after its upload, the lip dub has received 43,000 views, 49 comments, 871 Tweets, and views from 10 other countries around the world.
And that's not all.
Martin Page, the writer of Jefferson Starship's "We Built this City," emailed lip dub coordinator and yearbook advisor Lori Oglesbee to tell her how much he enjoyed it.
In addition to Ms. Oglesbee, yearbook editors Jackie Harrison and Catherine Festa, broadcasting producers Aaron Delgado, Devon Maguire and Taylor Hobart along with broadcasting advisor Alyssa Boehringer organized the lip dub.
"I never thought it would have this big of an impact on the school," Jackie said. "I'm like running on complete adrenaline."
The video was also featured on WFFA Channel 8 News twice the day after the lip dub was filmed.
"When I emailed the producers, I didn't think that they would actually reply back to me," Catherine said.
After 30,090 hits the weekend the lip dub was made, Ms. Oglesbee has received compliments about its success.
"I have a plethora of texts," Ms. Oglesbee said.
Because of the success of the lip dub, the school has been further recognized.
"I can't sit still, I'm so excited," Jackie said. "Everyone wants to go to McKinney High now."
Written by Sarah Martin
Photo by Maddie Derryberry