CNA grad on front lines of Coronavirus effort
Daughter of art teacher Moran recruited to Calif. to help fight COVID-19
Gown. Shoe covers. N95 mask. Hairnet. Goggles. Face shield. 2014 graduate Jaylee Moran is required to put on personal protection gear before she starts her night shift for a COVID-19 Unit in San Jose, California. 
During her sophomore year at McKinney she took a Medical Sciences course, and was in the Certified Nursing Assistant class her junior and senior year. She is also the daughter of longtime art teacher Dondi Moran. 
"I knew I wanted to be in the medical field since I was a little kid," Jaylee said. "But I knew I wanted to be a nurse when I started the CNA program."
For Jaylee, nursing runs in the family. Both her aunt and grandma were nurses. But the CNA program helped Jaylee find her specialty in nursing and get clinical experience. 
"During the first semester of the program you learn basic skills such as vital signs, blood sugars, and just caring for patients' general needs," Jaylee said. "Then in the second semester you start going to the hospital and follow nurses and start applying those skills."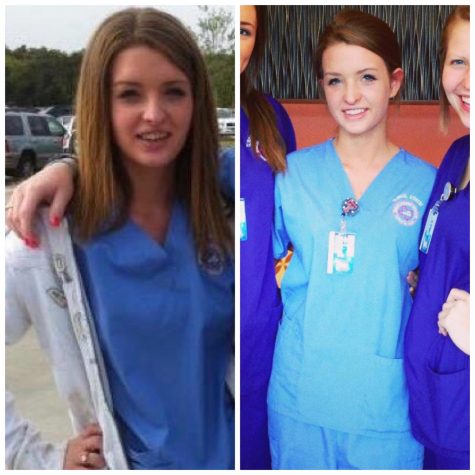 Through hands-on learning and real patient experiences, the CNA program prepares students for the CNA exam and gives a thorough introduction to the medical field. To end the year with a CNA license, students must pass a demonstrative and written test. Current CNA student junior Belle Salak said the program has helped her learn the basics of the medical field. 
"Before I started the course I wanted to be a cardiothoracic surgeon," Belle said. "Now, if I had any hesitations going into the medical field, I don't anymore. I know for certain I want to become a doctor."
After graduating, Jaylee went to Texas Tech University for her basics, Covenant School of Nursing in Lubbock and recently received her Bachelors of Nursing and Science from Texas Tech University. 
"As soon as I graduated, I had a job," Jaylee said. "I work at Covenant Health in Lubbock which mainly treats cardiac patients."
Nurses and medical professionals across the country have contracted the Coronavirus leaving hospitals with vacancies. 
"A lot of hospitals have lost their nurses who have the Coronavirus," Jaylee said. "They have to quarantine for two weeks, but some hospitals are even requiring them to stay home for four weeks."
Jaylee was on one of her days off when she started noticing other nurses taking travel positions in other states to help with the Coronavirus pandemic. 
"Someone had asked me if I wanted to do it and I turned it down," Jaylee said. "Then one day I was sitting at home and just kept thinking and praying about it. It's something that came to my heart and realized what I wanted to do."
Jaylee promptly started talking to recruiters about going to places that needed help the most. She ended up with a four-week contract at a rehabilitation center with a COVID-19 unit in San Jose on April 19. 
"When the Coronavirus first came here, we thought it would only affect the elderly, children, and pregnant people," Jaylee said. "But just looking at the numbers, it has really affected a lot of people. There's even been a lot of nurses who have gotten it because they weren't given proper PPE."
Jaylee works 13-hour night shifts with layers of PPE that she is only allowed to take off in the break room. 
"It gets really hot with all the gear on," Jaylee said. "Night shifts are a lot calmer than day shifts because the patients are sleeping, but there is still stuff to do. Wearing all the gear on during my day shifts back in Lubbock would be awful."
Although it has been difficult adjusting to the new environment and workspace, Jaylee says she is very grateful to have her hospital to go back to in Lubbock.
"I'm just taking care of patients," Jaylee said. "I just have to protect myself as much as I can."