Harvard grad English teacher has sights set on PhD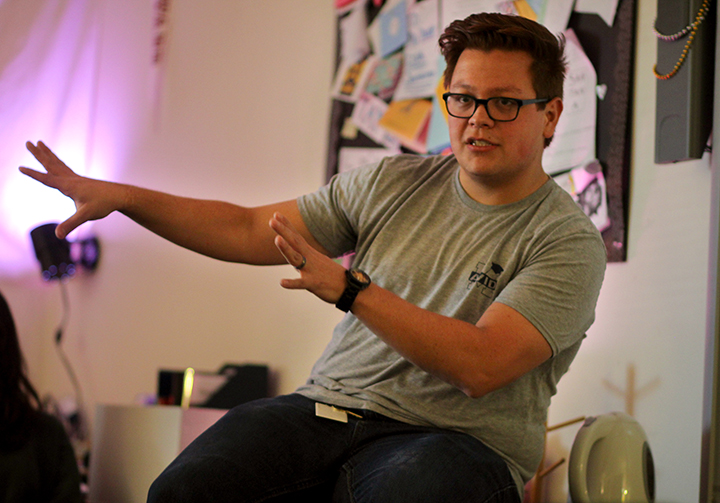 Jordan Glenn, Reporter
December 17, 2018
His mom had him at 17 and worked as a waitress between Golden Corals to make ends meet. When his parents were 25 they got a divorce which sent him and his two siblings on a spiral of moving across the country. They ended up moving to Chicago for a while and when he was about 15 or 16 they came back to Texas, still very poor at the time. Despite the constantly changing childhood, AP English 3 teacher, Mr. Izak Santana still managed to look on the bright side.
"Some of my worst memories growing up were seeing my mom having to deal with so much pain, whether that was physical active pain or hearing her cry herself to sleep," Mr. Santana said. "It wasn't a great childhood but I always felt very loved and very fortunate to be with my mom."
Mr. Santana didn't let his childhood define who he was and what he would do with the rest of his life. He kept a constant positive outlook on his memories as a kid.
"My mom could only do so much," Mr. Santana said. "She was working 60-70 hours a week and my teachers and coaches took a lot of the brunt of trying to rear me. They marked me out as a smart kid, a kid who deserved to have opportunities."
The encouragement from coaches and teachers helped Mr. Santana stay on track and led him to exceed in school, which later resulted in him getting into college.
"I had to deal with the stuff poor people deal with, like abuse, drugs, fears," Mr. Santana said. "I had lots of teachers and coaches kinda looking out for me and when I went to college, I didn't really know what I wanted to do. I thought I maybe wanted to be a football coach or something like that because I played football in high school and it meant a lot to me."
Getting into Harvard was made possible by his professors who saw the potential in Mr. Santana.
"I had professors encouraging me to get my masters degree and so I threw caution to the wind and applied to a bunch of masters programs and I was able to get into Harvard," Mr. Santana said. "I thought that it was a really good opportunity so I went there. When I was there I was planning on doing a lot of PhD work. That's what had been a dream of mine since undergrad, but I got married right before I moved to Boston and in doing so, I hooked my trailer up with another person and so the decisions aren't just mine."
The decision to get married changed Mr. Santana's motives of what was important in his life. This resulted in his dream job as becoming a religion teacher getting put on pause, and led him to work as a teacher.
"After I graduated and got my masters, we headed back to Texas and I felt around for whether I wanted to do pastoral work in churches. It was a lifelong dream to be a teacher, and to have influence on kids." Mr. Santana said. "I decided I was qualified for it at the time. I took the test and thought it was something I was very interested in, it was a calling so I did it and I'm very happy I did."
Despite his love for teaching, Mr. Santana still wants to pursue his lifelong dream of inspiring and helping others in a different way as a religion teacher.
"I've always wanted, even as I graduated with my masters to go back to get my PhD and teach religion. That's my dream job. That's what I really want to do," Mr. Santana said. "I really love the university and love to see the students and the culture that's there."
Although Mr. Santana will be greatly missed by all of the students he has impacted, it is important to him to move on to the next thing.
"My wife and I decided I was going to apply to PhD programs around the country and so things are looking good right now," Mr. Santana said. "You never know, they're hypercompetitive and other things are going well right now so hopefully by next fall I'll be in a PhD program, and hopefully 5-7 years after that I'll be teaching in some university, and if I'm lucky, in Texas."