One for all, all for one
4th year of MacBook initiative brings laptops to every student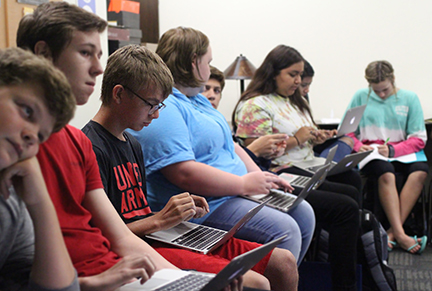 Mrs. Dondi Moran doesn't typically use computers in art class. But, it's 2017,
the fourth year of McKinney ISD's 1: World initiative, and every student in the
district has a MacBook.
The program, designed to help students easily access technology both at
school and at home, began in 2014, when every freshman received a laptop.
"The other day I told the kids to get their MacBooks out, and it dawned on me
– everybody in here has a laptop," Mrs. Moran said. "I teach all grade levels at once,
and it was just so cool and so exciting. I've never been able to say that before in my
22 plus years here."
Mrs. Moran plans to adjust her lessons to accommodate this new availability.
"My AP students have been tinkering more, trying to learn Photoshop," Mrs.
Moran said. "In the past, I've put a famous artwork on the screen, but in the future I
can just give them a link to go and look up a particular artwork on their laptop
without having to put it up on the screen. It's hands on. It adds to their visual
learning."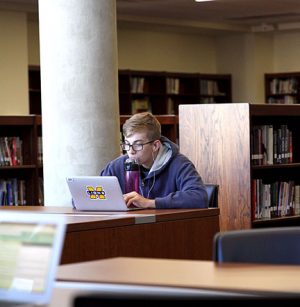 This increased usage has made some individuals on campus busier, includingMrs. Donna Thomas, the student MacBook support technician.
"Students are heavily using their MacBooks, and as the laptops get older, we have more hardware repair than we did in previous years," Mrs. Thomas said. "A
reoccurring issue is the "Password Reset" message that pops up on students' laptops
or when central office pushes out things and we have a hiccup and we have to
adjust."
Mr. Jason Braddy, the instructional technology coach, has also experienced achange in workload.
"A lot of teachers haven't had to use Canvas," Mr. Braddy said.
"They haven't had to use laptops in their classroom. That's made Mrs. Spain and I a lot busier.
Teachers are smarter than their computers sometimes. Sometimes the thing they
want to accomplish is so specific and so personalized that I can't get it to do exactly
what they want it to do. So a lot of the problems we're facing have to do with getting
teachers to think they way computers think and walk through the things they're
doing with that computer state of mind."
The English department has integrated this technology into its curriculum in
the form of blogs, podcasts and webpages.
"All of my students create a blog," English II teacher Mrs. Andrea Kenworthy
said. "I've actually set up my classroom to have four different sections, and one of
the sections is technology. The students are starting a multimedia project soon, where they get to make videos using iMovie. Before MacBooks, there's no way I could've done that."
MacBooks have changed Mrs. Kenworthy's role as a teacher.
"Instead of leading a discussion, I'm monitoring a discussion," Mrs.
Kenworthy said. "It's been hard for me because doing homework on the computer
was a hard transition for me. But this year I realized – you guys know computers
better than I do. Students have more control and power now because they have to
explore and figure it out themselves."
AP Art History and US History teacher Mrs. Kristen Pereira thinks students
have more to learn before they can take full advantage of this technology.
"In terms of projects, MacBooks do facilitate more research," Mrs. Pereira
said. "As a school and personally, we need to do a better job of teaching kids how to
use the laptops for more than just Netflix. Overall, we need to teach kids how to
format a research paper and teach kids that stuff we do expect you to do in college."
The increased use of Canvas, an open-source learning management system,
has posed some problems.
"I do think not having enough bandwidth is a problem," Mrs. Pereira said.
"We've had situations where we've put things on the computers, hoping that we
would get to do it, and we can't get to it. It kind of shuts down your whole day. That
fear that it won't work out is a problem because you have to have a back-up plan
and you run the copies anyway."
That being said, Mrs. Pereira agrees the MacBooks will help students prepare
for the future.
"I know that is very much how college is set up," Mrs. Pereira said. "I think
trying to send kids in that direction is laying that foundation, especially for those big
universities like OU. They're not going to hold your hand and walk you through
everything, they're just going to say it's on Canvas."
Mr. Braddy agrees that technology skills are important now more than ever.
"We're in the information age now," Mr. Braddy said. "We no longer live in a
society where we can manufacture goods. You can't go out of high school and get a
job at a warehouse or factory and work your way up and make a decent living. You
need to understand how to collaborate, produce, and generate content in some way.
With these computers, we're able to teach kids these skills."
Mr. Braddy hopes using MacBooks for four years will help students become
comfortable, competent "producers of information."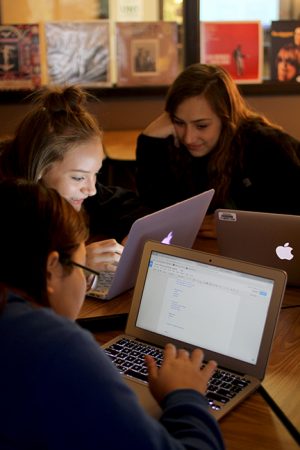 "Our kids aren't tech natives," Mr. Braddy said. "I know multiple kids that can
send 15 Snapchats between 3 rd and 4 th period, but they can't add a printer to their
computer. They can't attach a file to an email. They need us to integrate that into
their lives, so that when they leave here, they can focus on the really important stuff,
not the technology."
Mr. Braddy thinks the 1:World Initiative will normalize as teachers become
used to it.
"For every one teacher that's anti-computer, there's 20 coming, asking how
can I help my kids," Mr. Braddy said. "Really, at the end of the day, it's going to be the
teachers who are willing to adjust and change the way they do things to meet the
needs of their students that are going to be successful. When you as a teacher say 'I
don't want to use laptops in my classroom,' you're doing that for you. You're not
doing that for the kids."