Taking Flight
Aviation senior pilots district plane to Wisconsin
Clouds covered the bubble canopy. He couldn't even find the sun. 7,000 feet in the air, flying the airplane he built himself, senior Bryan Niemann could only see white.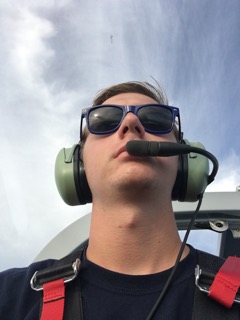 "It's hard to put into words," Bryan said. " It was like a field of snow that no one's ever touched. No one's around you. It's that sense of quietness. It's that sense of being peaceful."
Bryan started building the plane, a VANS RV-12, last August, with other 3rd and 4th year aviation students across the district.
"The earlier class started it, and it was half way done when I came in," Bryan said. "We didn't finish till about two weeks before July, before we were supposed to leave."
This past July, Bryan flew the plane to Oshkosh, Wisconsin to attend one of the biggest air shows in the world.
"All the high schools across the country that build airplanes fly them there," Aviation teacher Nathan McAfee said.  "This year's one was special because it had every living person that's been on the moon. I was told the astronauts actually came by and looked at the plane. People were shocked at the quality of the job the students did."
Build mentor Phillip Campbell chose Bryan out of the 220 aviation students to fly up with him to Oshkosh.
"There's a lot of learning that takes place at Oshkosh, so we encourage all of our students to go," Mr. Campbell said. "Bryan was chosen because of his dedication to the program. We're looking for kids who participated a lot in the build, and Bryan certainly did that. He read the plans before class and had a good understanding before he came in to build the airplane. He was there almost every time we had outside of school builds."
Eagle's Nest Project, a non-profit organization inspiring future aviators, funded the plane.
"It's about a $75,000 airplane," Mr. McAfee said. "Eagle's Nest actually owns the plane.  They pay for it, let us keep it while we build the other plane, and then sell it to fund new kids for our school and other schools. They already sent the kit in for us to build the next plane."
Bryan and Mr. Campbell left the McKinney airport at 6 a.m.
"The flight itself is only six hours, but we have to stop for gas about every two and a half hours," Campbell said. "The goal of the flight isn't so much to go out and sightsee. It's more about covering the distance in a day and getting there as quickly as possible."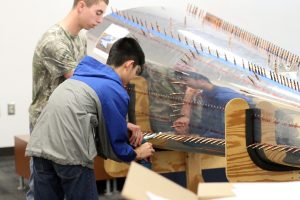 That being said, the flight included views of the Ozarks, crossing the Mississippi River and the mountains of Southern Missouri.
"Once you get up there, you get a whole new view of actually flying," Bryan said.  "It's just that thrill of where you can stick your hand out the window and touch a cloud. At one point, when we were flying the clouds were at a certain level, we put our canopy right in the clouds so the whole plane was below and we were skimming the top."
The most nerve-racking part was landing.
"The couple times I've done it, sweat just starts coming down," Bryan said. "You're up so high and all you see is this skinny, tiny runway, and say all right, got to get 'er down."
Bryan became passionate about aviation in 7th grade.
"We flew over to Florida, and I was more excited about the flight than the actual vacation," Bryan said. "I loved the feeling of being above the clouds where anything could happen – where you could go anywhere."
Currently, he's working on obtaining a pilot's license.
"I had to stop for a while because I ran out of money," Bryan said. "It costs about six grand on the cheap end to get it, and you have to fly 60 hours and pass off by your certified flight instructor (CFI), which can be easy or hard depending on who you get it."
Over the summer, Bryan also interned for Southwest Airlines.
"When I interviewed for the job they were just amazed by the program," Bryan said. "They'd never heard anything like this before."
His end goal is to fly international for Southwest or American Airlines.
"This experience has set my path," Bryan said. "What other 18-year-old can say they built an airplane and now they're flying it?"