McKinney resident goes extra yard to support Trump
Hang on for a minute...we're trying to find some more stories you might like.
Downtown McKinney resident Kimberly Loyd has Hillary Clinton hanging from a noose in her front yard and Trump's name in lights on her porch, along with dozens of other Trump signs. To her, the signs are more than a show of her unwavering support for the Republican nominee. They are a way of showing people she won't back down to protesters or vandals.
Loyd's yard started out with only two Trump signs and a flag.
"My cousin and I went to the Fort Worth rally for Mr. Trump on February 26 and I purchased two flags and several campaign signs," Loyd said. "My boyfriend put the flag out on our tree and two campaign signs in the yard. A week and half later they were gone."
Then her boyfriend installed a flagpole with a Texas flag, American flag and a Trump flag.
"A few weeks later I come out and the National flag and Texas flag are on the ground, the Trump flag is gone, the campaign signs are gone, all my bushes and flowers were pulled up out of the ground, and all my landscaping lights were broken," Loyd said. "Then I got mad."
That's when Loyd went to Lowes and made her own massive Trump signs.
"I wanted something that if they did try and steal it, it would be harder," Loyd said. "Then I had protesters in my yard demanding that I remove the Trump signs. I explained to them about the Constitution, apparently they didn't understand what the Constitution meant."
The vandalism escalated after that.
"That night they came and they painted swastikas on my Trump signs," Loyd said. "So I made bigger signs. Then they came and painted 'Black Lives Matter' on my garage doors and totally trashed my garage doors. Then the fight was on. Every time someone does something, you will see that I add something else."

Last month, two teenagers were arrested and charged with criminal trespassing after tearing up some of her campaign signs and breaking a statue.
"People have shot out my bedroom window and living room window three times and I'm not gonna replace them until the election is over," Loyd said. "I'm actually on a watch where the police drive by my house on a rotation."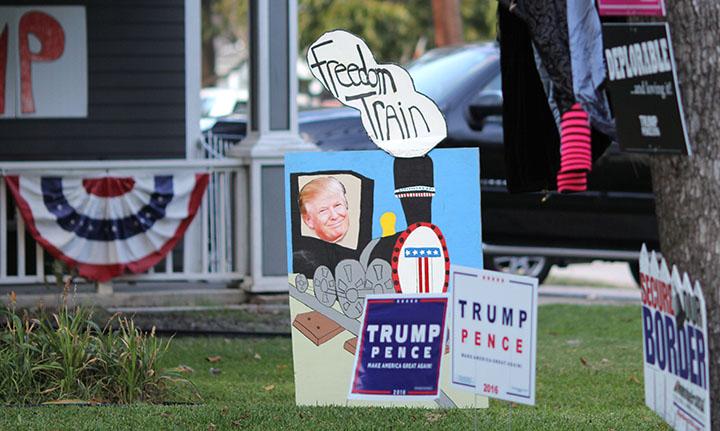 Signs aren't the only way Loyd gets her message across.
"My fiance has a really funny sense of humor," Loyd said. "He wears a Hillary mask and his little orange jumpsuit and mows the lawn. Honestly he does it just to tick off the liberals. 99 and 9/10 of the reaction is for Trump. They want to get out and shake his hand and take pictures. Then you get the illegals that will come by and say 'F Trump!' We just take it for what it is."

Since Trump announced he was joining the presidential race, Loyd has been for him. This is the first time she has supported a political candidate on this level.
"Do I put campaign signs out in the yard? Absolutely," Loyd said. "Do I stuff envelopes, go door to door? Absolutely. This? Never before. The only reason I did this is because they bullied me. I don't like bullies, I never have. So when they (the protesters) demanded in my yard that I take my campaign signs down, I told them I sure would. On November 9."
Despite the outcome of the election, Loyd sees her yard as her own victory.

"I've gone through three thousand dollars just replacing things so I'm gonna be more broke financially, but I won whether Trump wins or not," Loyd said. "I won because they didn't break me. I'm pretty stubborn like that."