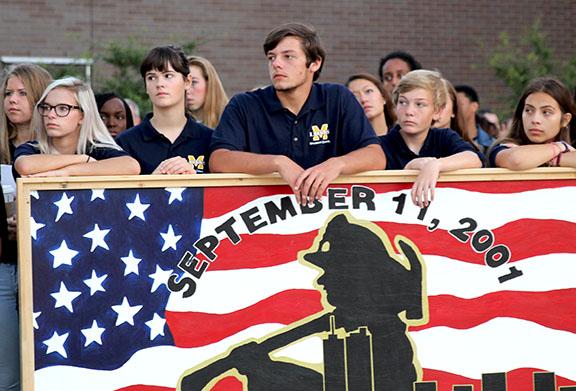 Cassandra Peña
Hundreds of people had gathered around the front of the school, but only the sound of JROTC raising the flag to its somber position of half-mast could be heard. With a pink glow rising above the building, Fire Captain Chet Husbands and medical laboratory technician of the 72nd medical group and Senior Airman Charles McPherson stepped up to speak at the podium.
At this ceremony for the 15-year anniversary of September 11, 2001, the memories of suffering remained fresh in the minds of many.
"We as human beings often remember the exact moment when a tragedy strikes," Charles McPherson said. "After all, it's human nature—how a day can stick in our minds for all eternity, forever altering our perceptions of the world that we thought we knew."
Those who remember the day often share the story from their point of view, and McPherson added his perspective to the mass.
"I remember where I was on September 11, 2001, when the first reports began to sweep across every radio channel and news station," he said. "I remember the horror, the confusion, the desperation, and the heroism. I remember seeing New York's finest and first responders rushing into the building as everyone else was rushing away. Things I saw and wish I hadn't—I remember."
Principal Alan Arbabi, present at the ceremony, also remembers the staggering news.
"I was at Dowell Middle School as the assistant principal and news started coming across the wire that something bad had happened," Arbabi said. "We were in the middle of the school day and a lot of people were in shock. I remember, first, I had to take care of our school. But, once I felt everybody was safe and I got home that evening, I was emotionally overwhelmed. I'll never forget the images and how our country had to step up and form a closer bond. It was tragic."
Yet, this tragedy has gradually turned into pictures and stories rather than memories and experiences.
"During the ceremony, I was thinking about how the freshman weren't even born yet," Mr. Arbabi said. "But there are a lot of things—I wasn't born when JFK was killed. I wasn't born when Pearl Harbor happened or when D-Day happened. So, I don't think you have to be present to have empathy. I think it's important for my generation to build a picture of what happened, and say, "we can't allow that to happen again." But, you don't have to live every emotion to feel it."
Even McPherson's speech addressed the decreasing numbers of those who lived 9/11.
"With each passing year, there will be fewer and fewer who remember where they were and what they were doing on that life changing morning," McPherson said. "Time will pass as it does, and soon, generations who lived through the atrocities of that day will have also passed."
Yet, he had one plea for everyone, whether they experienced it or not.
"My request to this generation and those to come isn't that you remember," he said. "My request to those who lived that day and shared in the sorrow, pain, and loss isn't that you remember. My humble request is this: in an effort to honor all those who lost their lives or loved ones, or sacrificed so selflessly to save other, isn't that we imply remember. Remembering just doesn't seem to be enough. So I say, let us not forget. "
Although she was only three years old when it happened, student council president and senior Emily Swadley believes she will never forget. Instead, she hopes the tradition of honoring 9/11 will continue far into the future.
"I feel like having the ceremony will be important no matter how far away from it we get," Swadley said. "It was only fifteen years ago, but I feel like even one hundred years from now, it will still be significant to honor that day and honor all the men and women who lost their lives. It's important to remember what we came from, no matter how unfortunate, so we know what shaped our country."