Robotics club members overcome obstacles
Hang on for a minute...we're trying to find some more stories you might like.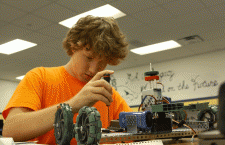 To give the robotics classes a place to compete, robotics teacher Pam McBride created the robotics club in 2011. Members such as senior Kristin Ross, the robotics captain, helped make it what it is today.
"Robotics is pretty much my life," Ross said.
They compete with two different companies, BEST and FIRST. BEST stands for Booting, Engineering, Science and Technology and FIRST stands for Inspiration and Recognition of Science and Technology.
"BEST was okay, but we could do better," sophomore Victoria Sandoval said. "Hopefully FIRST will be a chance for us to win something for the school."
To motivate the club to start the FIRST competition with a positive attitude, the members voted on leadership positions.
"To be on the team you have to be open-minded, patient, cooperative, dedicated and hardworking," senior Nikki Estrada said. "You can't go without even one of those things."
The team has encountered some complications, including having to completely rebuild an arm for the space elevator robot one week before a competition.
"When we had to completely trash it I freaked out," sophomore Maya Ermeus said. "I just thought, 'I want to die.'"
At the last competition, the team pulled everything together and learned how to overcome obstacles.
"I think that when we win we learn, but when we lose we still learn," Ross said. " We are one machine that powers through any storm together."
Written by Jammie Melton
Photo by Colin Mitchell