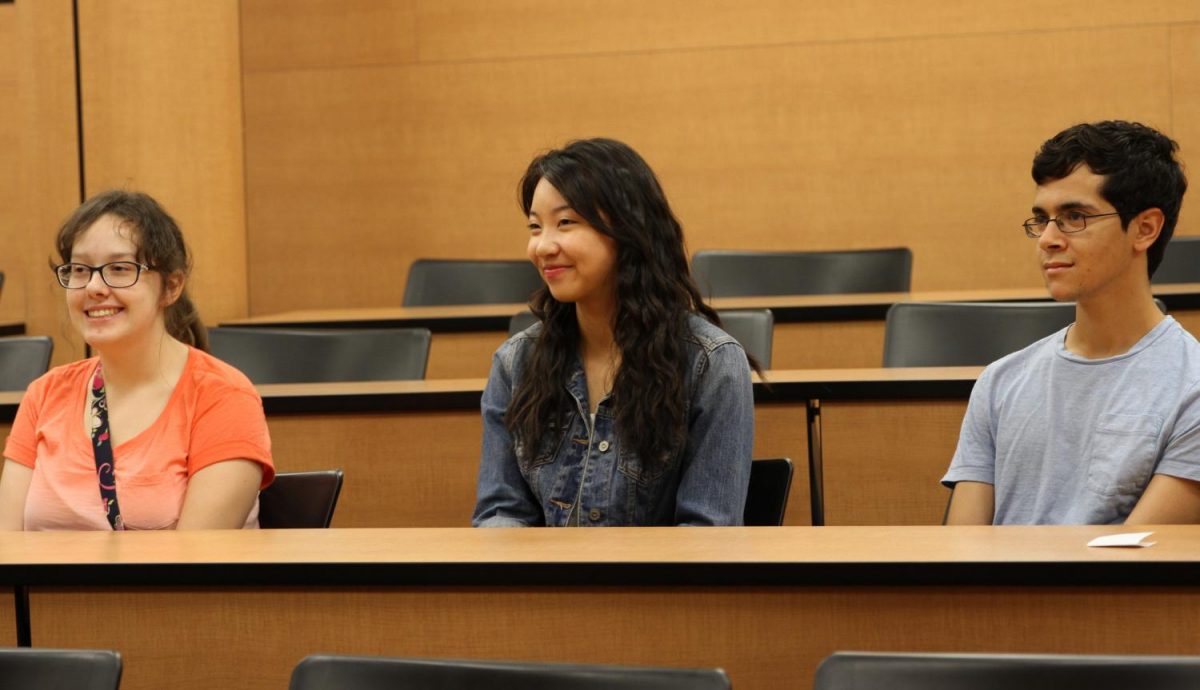 After a three-year drought, McKinney High has three national merit scholar semifinalists. Seniors Basil El-Hindi, Ashley Wu, and Kierstin Marchal prepared for the PSAT differently, but hope it helps them the same: to go further in the future.
"I'm really proud, because I put in all that work," Ashley said. "It's like I finally got a wider recognition for all those years of schooling. It was the first time I got more than local recognition on something."
A little competition with her older sister motivated her to study more.
"It's because I saw my sister not get it, and I always try to be a little bit better than my sister," she said. "It's not like an outright competition. It's a way to distinguish myself from her. We're so similar. Like, we weigh the same, we're almost the same height, like half an inch off, and people confuse us. It's just that I saw her do well on SAT and all that, but I wanted to invest in my future even more."
To do this, Ashley studied 5 hours a week before the PSAT, taking practice tests and going to classes at Karen Dillard's College Prep.
"I went to KD a lot," she said. "I realized how much my mom put into it, like all the money, and the gas and going back and forth, even the time getting there, so I decided, if I'm going to go to KD, I'll try. So, I actually studied for practice tests. I wanted to make my mom proud."
Basil also studied, but he took classes with junior English teacher Mrs. Meyer.
"I took classes here at MHS for an hour several times a week in math and reading," he said, "and it really helped me focus on test-taking strategies that I was lazy on. It helped me work a little faster and that's why I could score as well as I did."
Mrs. Meyer has taught PSAT prep classes for seven years.
"Karen Green, the GT director of the district, asked me to start working with the seventh graders preparing for Duke Tip," she said, "so I started doing it then, and then I started doing it for 11th grade as well. I think that test scores are only important because they give kids choices, so I love to see when a good test score gives a kid a lot more choices, and opens up a lot more doors."
Kierstin, though, didn't study at all—instead, she counted on her comfort with test taking.
"I'm just a good tester, I guess," she said. "Like, I like quiet rooms, and I like the way it's cold and no one's talking and we're all spaced apart, which is weird. And for me, it felt like something I had to do. I want to be an electrical engineer and the top two schools I'm looking at are MIT and Stanford. It's pretty hard to get in to them, so this will definitely help."
Kierstin's mom and front desk receptionist Stephanie Marchal couldn't be more proud.
"I'm very excited for her," Ms. Marchal said. "She has no test anxiety, so she just sits down, and always does really well on tests. I'm hoping it will help her get into the schools she wants to get into, hopefully it's that one last piece that tips the scales in her favor."
Basil also hopes it will support him in his college applications.
"I'm proud of what I've been able to accomplish," he said. "It's opened up a lot of opportunities for me. I want to do software engineering or computer science, and I'm really excited. I'm hoping I can get to a really great school because of it."
His mother, Lulia El-Hindi, remembers helping him from a young age and sees how far he's come.
"It's a great honor and moment of pride that all the years I put into helping him moved him from reading the alphabet to winning a national merit prize—that's a pretty significant accomplishment as a student and a parent," she said. "I think this will allow him to pick and choose which colleges will have him instead of him chasing after them."
For Ashley, this accomplishment didn't just help her goals. It pushed them higher.
"I want to apply to better schools now," she said. "Like, before, I was just going to apply in Texas, but now my mom's pushing me to go out of state. I didn't think I could go that far. But it gave me the motivation to reach for bigger and better schools."